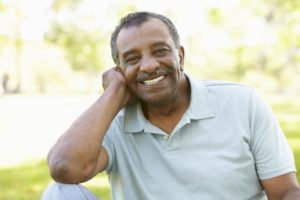 There's something about the bright-sunny days of summer that make you just want to smile. However, you may be a little hesitant to do so if you don't have a full set of teeth. Thankfully, there is a solution: the placement of dental implants. Continue reading to discover what separates implants from other forms of tooth replacement and why summer is the absolute best time to have your smile rejuvenated!
Why Dental Implants are the Gold Standard
When it comes to tooth replacement, dental implants are in a class of their own. Made from the highest quality titanium, they are cylinder-shaped posts that attach at the jawbone level to match the stability of the original tooth root. Over a period of a few months, the implants fuse with the existing bone through a process called osseointegration.
The next step is for the dentist to add abutments, which are also made from titanium. Their purpose is to anchor the final restoration (crown, bridge or denture) in place. The result is a highly functional and attractive smile.
Why You Should Act Now
In the northern hemisphere, summer is arguably the most exciting time of the year. By initiating the dental implant process now, here's what you stand to gain:
A Younger Appearance
Living without a full set of teeth can take a major toll on your appearance. Over time, it can cause facial and jaw shifting and premature wrinkles. By having dental implants placed, you'll be able to offset these undesirable changes.
Unmatched Functionality
With dental implants, you can expect to regain up to 75% of your original chewing capacity. As an added benefit, you won't have to deal with any slipping or painful gum irritation. Instead, you'll have the peace-of-mind of knowing that your teeth are securely in place.
A Stable Smile
Prolonged tooth loss will often cause some of the remaining teeth to shift, as they attempt to reestablish the missing support they need. This can leave you with an altered bite and greater susceptibility to gum infection.
Moving Forward with Confidence
If you want your smile upgraded in time for the summer festivities, you'll need to reach out to a local implant dentist to request a consultation. After your mouth and oral health are assessed, the dentist will let you know what option is best suited to fix your situation. He or she will also answer any questions you may have. With a new set of teeth and head-turning smile, this will be a summer you'll never forget!
About the Author
Dr. Krista Cayo earned her dental degree from the Southern Illinois University School of Dental Medicine in Alton. A passionate professional, she stays abreast of the latest changes in dentistry by maintaining affiliation with the Missouri Dental Association and Greater St. Louis Dental Society. Dr. Cayo understands how important it is to have a functional and beautiful smile. She places dental implants at Cayo Dental Care, and she can be reached for more information or to request a visit through her website.