Frequently Asked Dental Questions – Saint Peters, MO
You Asked, Dr. Makwana Answered
Dr. Kamlesh Makwana brings more than 25 years of experience to our dental office. As a result, he has a breadth of knowledge and information that is beneficial for all patients. If you have questions about a particular area of dentistry or would like to know more about how we handle certain dental problems, you're always welcome to contact our Saint Peters dental office. You can also review the list of commonly asked dental questions below!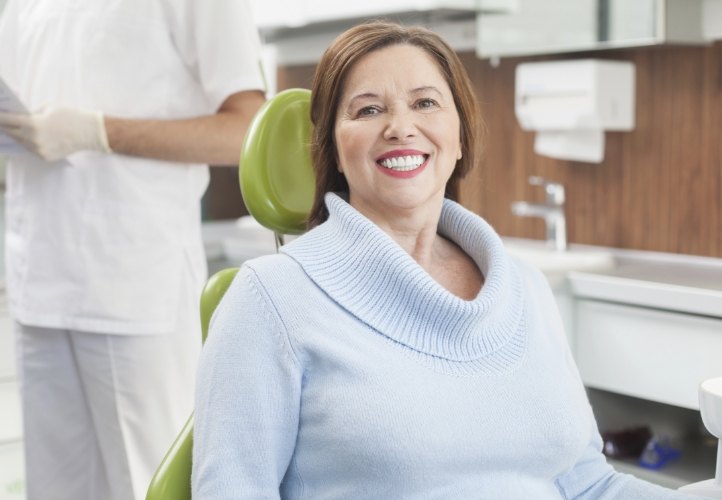 Do you see children at your dental practice?
Yes! Dr. Kamlesh Makwana welcomes whole families and patients of all ages here at his Saint Peters dental office. The quality of dental care you receive at a young age can affect your attitude toward oral hygiene for a long time, and our team understands this very well. That's why we make every effort to help your son or daughter have a great time with us, providing gentle, personalized dental services that are sure to leave them smiling.
What are my options for replacing missing teeth?
Tooth loss is a serious concern that should be taken care of as soon as possible to protect patients from deteriorating oral health, reduced function, and a lesser overall quality of life. Dental implants are the clear frontrunner as far as possible solutions go, providing revitalizing and seamlessly lifelike results. However, the cost and time commitment involved can be too much for some patients. In these cases, a custom fixed dental bridge or a full or partial denture may be more ideal.
No one dental treatment is right for every single patient. Dr. Makwana would be happy to discuss these options in more detail with you during a consultation at his Saint Peters dental practice.
What are my options for achieving a more beautiful smile?
Several cosmetic dental services are available here for patients who want to feel more confident about their appearance, including dental veneers, metal-free dental restorations, teeth whitening, and more! Whether you're struggling with chipped teeth, stained teeth, or unsightly gaps, Dr. Makwana can work with you to create the ideal treatment plan that addresses your needs and creates the beautiful results you want.
I'm having a dental emergency! Can you help?
Yes! Dr. Makwana makes every effort to see emergency dental cases as soon as possible – often on the same day as your initial call – and provide any assistance he can over the phone as well.
Dental care makes me nervous. Is your dental practice right for me?
We think so! Dr. Makwana understands very well how dental-related anxiety is a common problem among patients of all ages – that's why he offers nitrous oxide at his dental practice. This technique is designed to help patients relax and feel at ease throughout their appointment, allowing our team to treat smiles much more comfortably.
Do you take my dental insurance?
Our dental practice is in-network with several PPO dental insurance plans, and convenient financing options are available as well. Please visit our new patients page to learn more!