Dental Implants – Saint Peters, MO
Say Hello to Your New Smile
If you have suffered from tooth loss, or if you currently have a dental bridge or use a denture, then you surely know the challenges these conditions can cause. Tooth makes many people reluctant to smile or talk. Some even have difficulty chewing and, therefore, must stick to a limited diet. Denture-wearers seem to always worry that their removable prosthetic may come loose and slip or even fall out when they talk, smile, laugh, or eat. Fortunately, there is a solution. At Klassik Smiles, Dr. Kamlesh Makwana and his staff offer several options to rebuild your smile and your confidence. To learn more about the process of getting dental implants in Saint Peters, contact us today!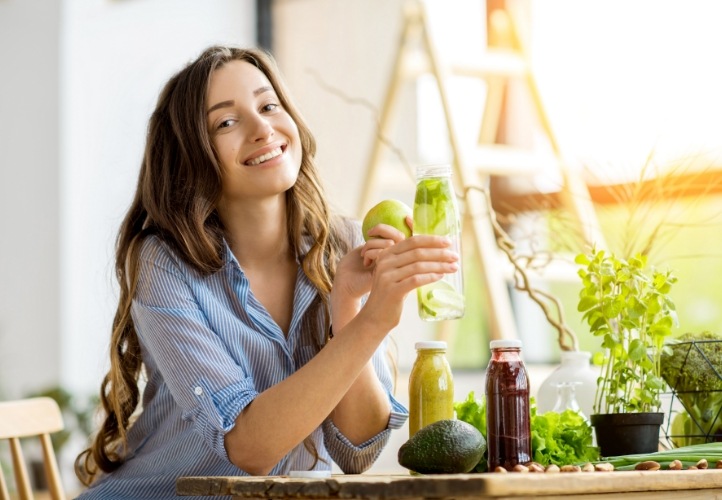 Why Choose Klassik Smiles for Dental Implants?
Start-to-Finish Dental Implant Treatment
Treats Varying Levels of Severe Tooth Loss
Flexible Financing Options Available
What Are Dental Implants?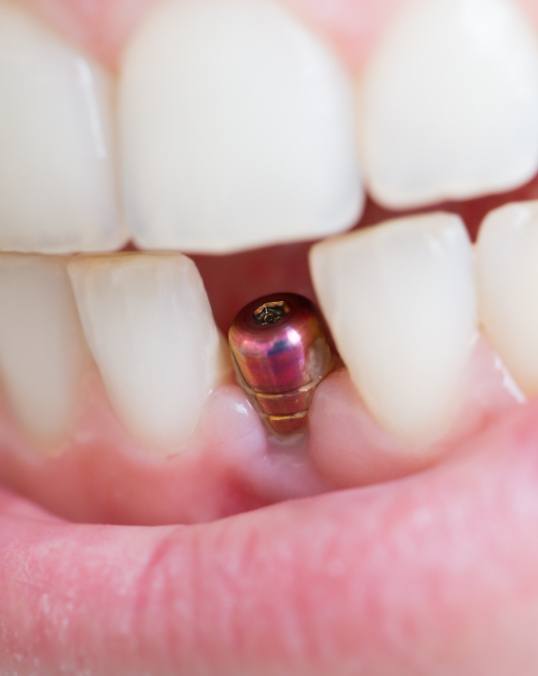 Dental implants consist of three main components. This includes the implant post, the restoration, and the abutment that connects them. Together, they provide a level of tooth replacement that is truly second-to-none. One of the reasons why dental implants are so popular is their longevity. Rooted in the jawbone, dental implants themselves can last for an entire lifetime if properly maintained. On top of that, eating your favorite foods is easy to do, no matter what they might be. These are just a few of the reasons why dentists often recommend dental implants over other options, especially for those who have recently lost teeth.
The 4-Step Dental Implant Process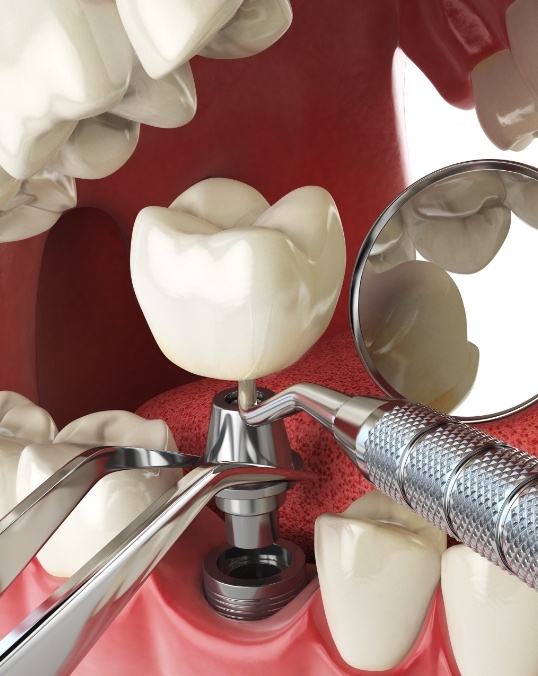 Unlike dental bridges and dentures, dental implants require a multistep process that spans several months. While this is quite a long time, the long-term benefits are well worth the wait! In fact, it's this unique process that will give your dental implants the potential to last a lifetime. During your initial consultation, we'll walk you through every step of your dental implant treatment plan so that you'll know exactly what to expect. Typically, you can expect four main steps: initial consultation, dental implant surgery, osseointegration, and placement of your final restorations.
Initial Dental Implant Consultation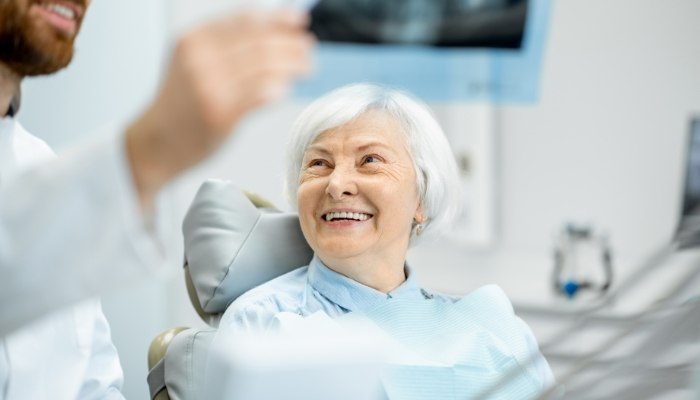 Dental implants require a multi-step treatment process that will take several months to complete. One of the first steps is the initial consultation, which gives our dental office a chance to confirm your eligibility and determine if any preparatory procedures (i.e., bone grafts, gum disease treatment, etc.) are needed beforehand. After you've healed from any previous treatments, you'll be scheduled for your dental implant placement surgery.
Dental Implant Surgery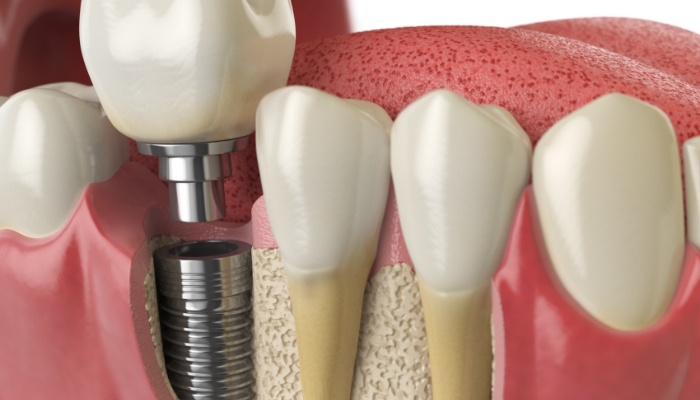 Dr. Makwana has completed additional training to be able to complete the surgical process of the dental implant procedure in-office, meaning you won't have to travel to a different specialist in the middle of your treatment. To ensure the placement is comfortable, we'll numb the area with local anesthesia before gaining access to the bone through the gums. This will allow us to place the implant and close the tissue, allowing it to heal and integrate with the bone over the next three to six months.
Osseointegration and Abutment Placement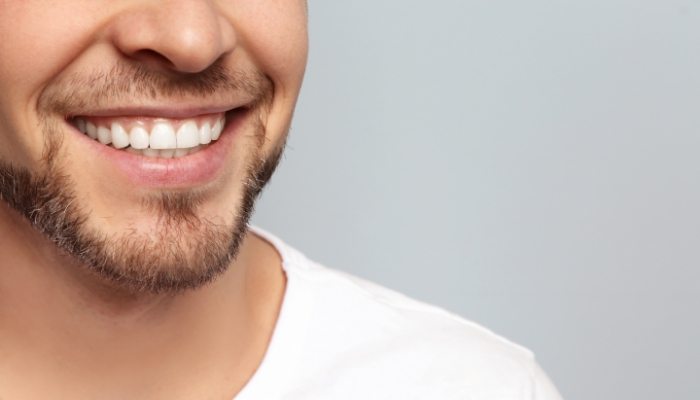 As you heal from surgery, something remarkable happens between the implanted post and your jaw. It's called osseointegration—the titanium-based post and surrounding bone tissue integrate to form a solid foundation for your eventual tooth restoration.
Following the integration process, you'll need a minor procedure to attach an abutment to your implant post. The special fixture is a connector piece between the post and the crown. Your gum tissue is opened again to expose the head of your dental implant, and the abutment is attached. Over the next couple of weeks, your gum tissue will heal around it to create a natural-looking gumline.
Delivery of Final Dental Implant Restoration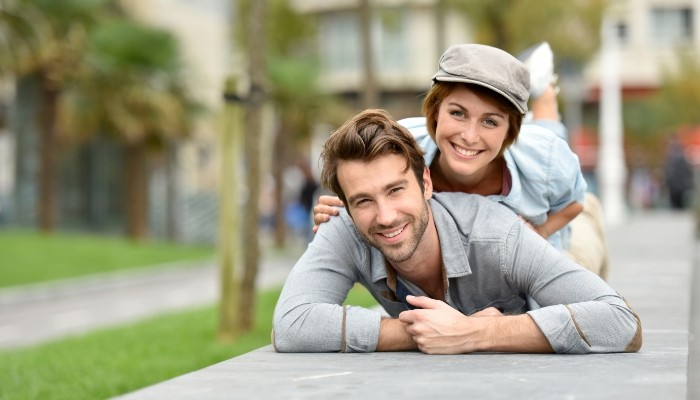 After your gum tissue has healed and your custom-made restoration is ready, you'll return for the final step in your treatment. The all-ceramic crown, bridge, or denture is connected to the abutment to fill the space. You can smile confidently knowing it looks like a real tooth and you shouldn't notice any difference when eating because it will feel incredibly natural.
Benefits of Dental Implants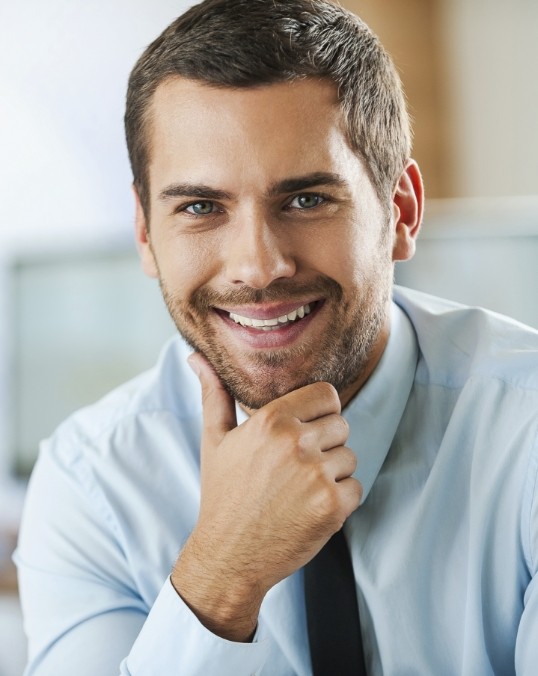 Dental implants offer patients a variety of benefits that cannot be replicated by other types of tooth replacements like dental bridges and dentures. If you've been on the fence about completing dental implant treatment because you weren't sure if they were worth the time and money that's needed to have them placed, you'll want to give the list below a look. The most common benefits patients can expect following the completion of their dental implant treatment include:
Day-to-Day Benefits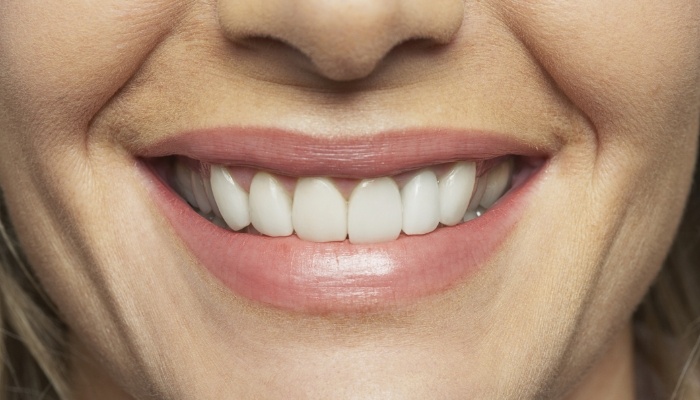 Improved stability – Dental implants are held in place with titanium posts that are anchored in bone tissue, which means your dedicated restoration should never slip out of place while in use. Whether you're speaking, chewing food, or practicing oral care, you can expect your dental implants to keep up with your day-to-day lifestyle.
Increased confidence – When you have a smile that is complete and beautiful, you're far more inclined to show it off to friends and family. This makes you feel more confident in everything that you do, whether you're meeting people for the first time or speaking to colleagues or clients at your work.
Minimal maintenance – The restorations attached to your dental implants will not develop decay, but you'll still need to practice daily oral care. Thankfully, keeping them free of plaque and harmful bacteria feels no different compared to having natural teeth. Simply brush and floss as normal and feel free to add a mouth rinse for even more protection!
Health Benefits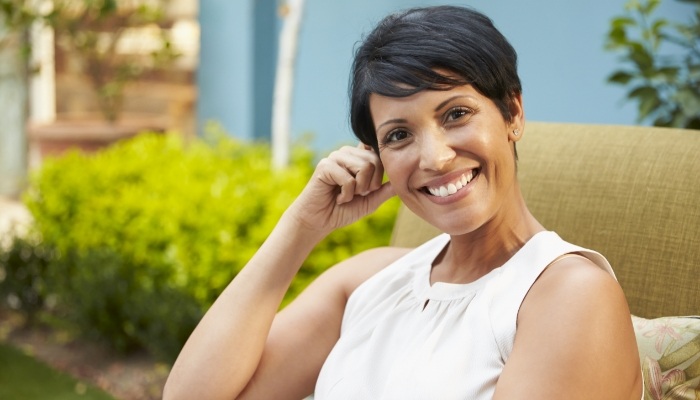 Enjoy your favorite foods – Dental implants are fully capable of breaking down just about any food you throw at them. That includes crunchy vegetables and tough proteins, so feel free to enjoy all the foods you did before you had missing teeth or started using a traditional denture!
Achieve a more balanced diet – Since your smile isn't holding you back, getting the essential vitamins and minerals you need to maintain a healthy smile and whole-body wellness isn't a constant chore. That includes calcium-rich foods that are good for teeth and antioxidants that reduce inflammation in the gums.
Avoid dental drift – Dental drift is a common side effect that occurs following the loss of teeth. As teeth are removed, existing teeth begin to move out of place to compensate, making the bite uneven. This can lead to teeth grinding against each other and becoming damaged. Replacing teeth ensures this does not happen.
Long-Term Benefits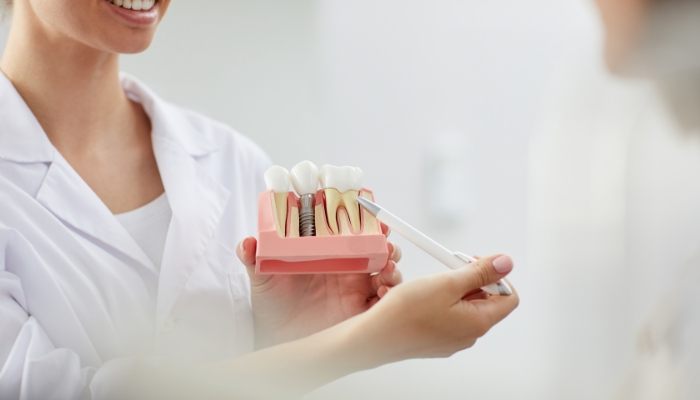 A longer-lasting restoration – Dental bridges and dentures don't hold the same longevity that restorations attached to dental implants do. For example, bridges usually need to be replaced after about 10 to 15 years and dentures need replacement every 5 to 7 years. In contrast, dental implant restorations can last multiple decades. Implants themselves are known to last 30+ years with proper at-home care and routine checkups.
A truly natural feel – Dental implants don't only look like real teeth, but they feel like them too. This is thanks to the integration process that occurs inside the bone tissue. Chewing your favorite foods feels natural because the implant is constantly stimulating the bone inside the jaw. This also works to keep the biting force strong for decades.
Who Dental Implants Can Help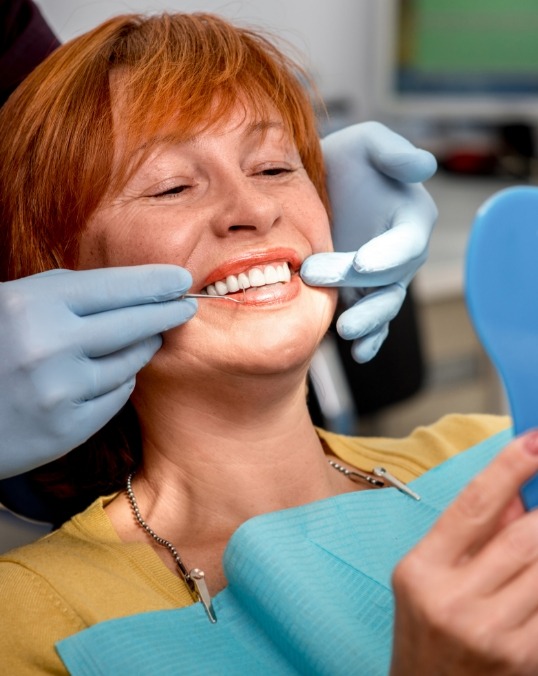 Without examining your mouth first, it's hard to recommend the number of dental implants that your tooth replacement will require. This will all depend on the number of teeth that you're missing. Furthermore, some bigger teeth may even require multiple dental implants for support, which is why a consultation is always necessary. Dr. Makwana will carefully examine your mouth before developing your personalized dental implant plan. He can attach several different restorations to your implants depending on the extent of your tooth loss.
Who Is a Good Candidate for Dental Implants?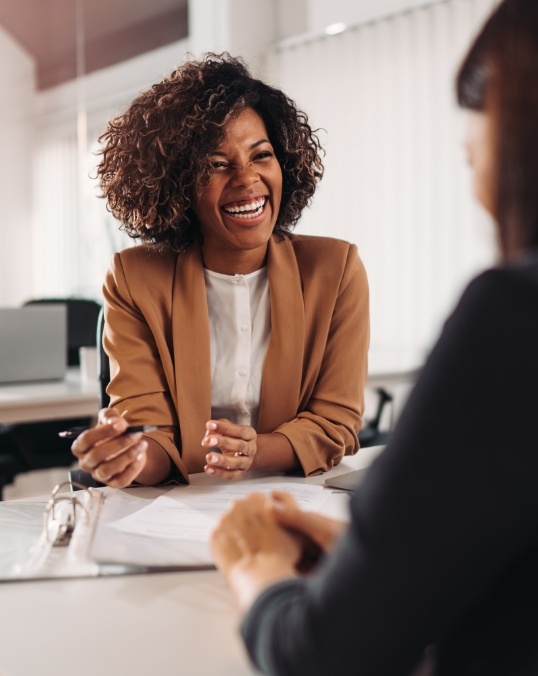 If you're still wondering about whether or not dental implants are right for you, the best way is to come into our office for a consultation. Dr. Makwana will carefully examine the condition of your oral health, where you're missing teeth, and the strength of your jawbone before making a proper recommendation. However, good dental implant candidates will typically:
Be missing at least one tooth
Be committed to a good at-home oral healthcare routine
Have a strong enough jawbone to accommodate implants
Avoid smoking and tobacco use
Visit our office regularly for dental checkups and teeth cleanings
Missing One Tooth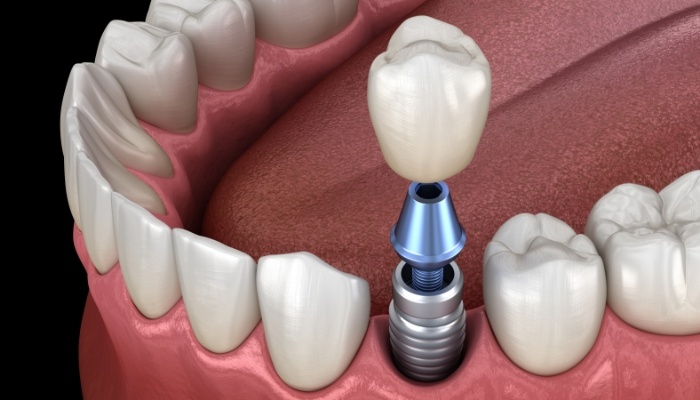 A dental crown is used to replace a single missing tooth. The implant post is made from titanium, which integrates with your existing bone tissue to replace the previous tooth root. Since the implant is strong enough to hold the restoration on its own, you won't have to modify existing teeth just to ensure it remains stable, functional, and beautiful.
Missing Multiple Teeth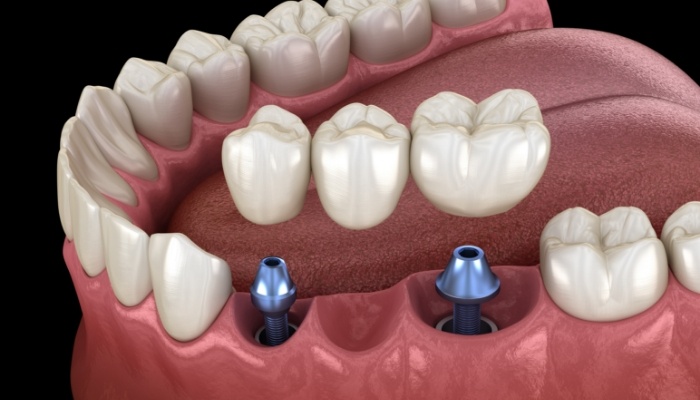 If you're missing several teeth in a row, you can still use dental implants to restore your ability to chew and speak normally; however, instead of getting multiple implants that support individual crowns, you can get a pair of dental implants for a single dental bridge. This way, you can enjoy the benefits of implants for multiple teeth while keeping the number of posts needed to a minimum.
Missing All Teeth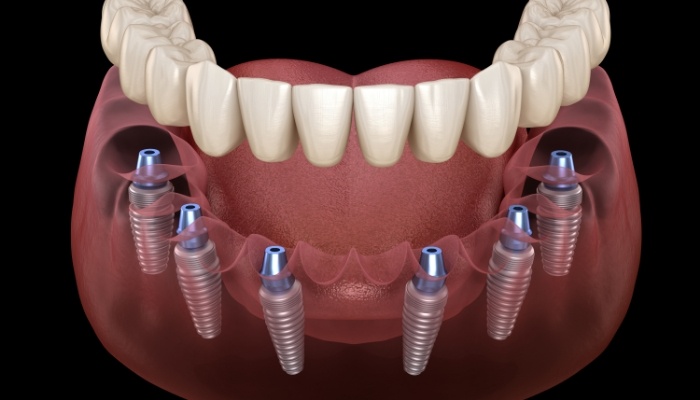 Patients who are missing all the teeth along the upper or lower arch and want the security of fixed prosthetics can opt for an implant denture. Whether you've recently had teeth extracted or you've been using a traditional denture for years, implant dentures can renew confidence in your smile and become a reliable tooth replacement option.
Learn More About Implant Dentures
Understanding the Cost of Dental Implants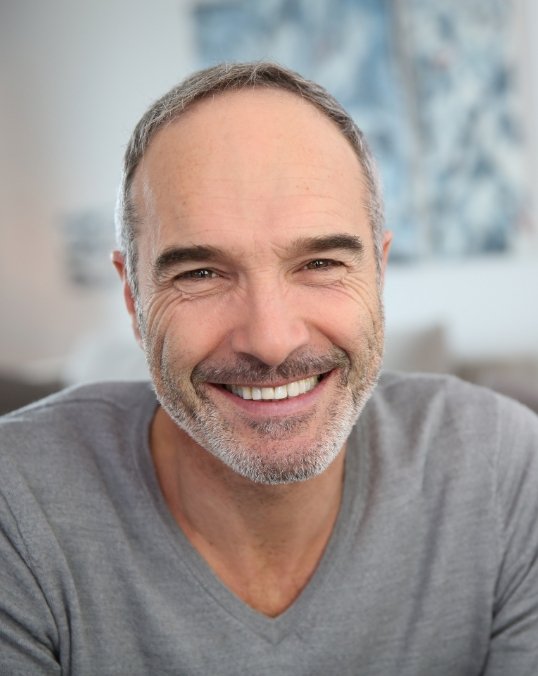 Multiple factors go into the cost of dental implants in Saint Peters. Dr. Makwana and his team understand that dental work may sometimes be hard to fit into your budget, which is why they strive to make replacing your lost teeth as affordable as possible. While dental implants are often pricier than alternative solutions to tooth loss, the lasting investment you're making in your smile will be well worth the cost. If you're ready to take the first step in rebuilding your smile, contact us to schedule your dental implant consultation.
Type of Dental Implants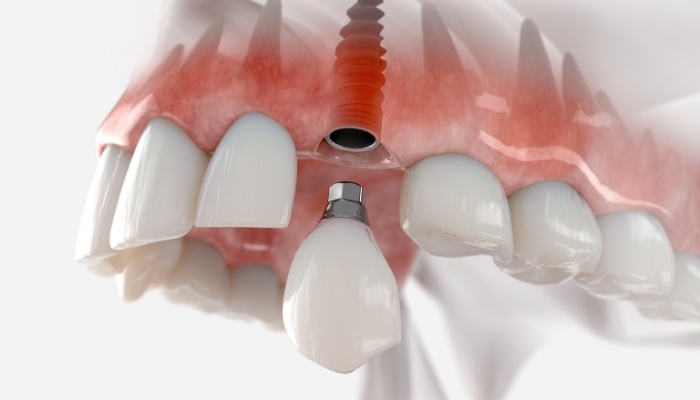 The overall cost of your new smile will depend on how many dental implant posts will be required to support your restoration. For example, a single implant topped with a dental crown will cost less than two implants supporting a bridge. Similarly, an implant bridge will cost less than a full denture that is secured by four to six posts. There are also several different dental implant manufacturers and placement techniques that impact the price.
During your consultation, your implant dentist in Saint Peters can lay out all of these factors and provide you with a personalized cost estimate.
What Are the Stages of Dental Implant Treatment?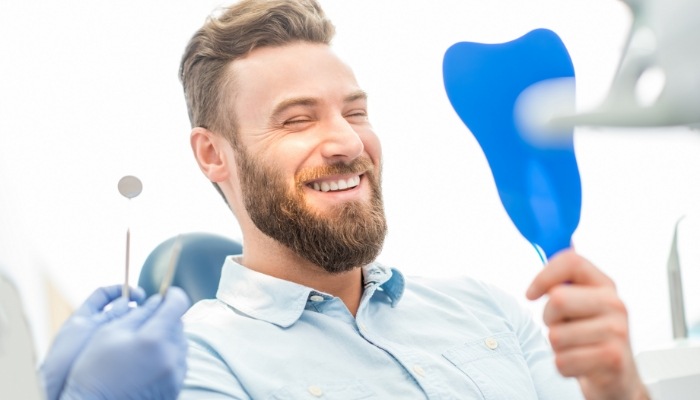 Fortunately, you won't have to pay the entire cost of dental implants all at once. Getting implants requires multiple procedures over the course of several months, so you can break up your payment accordingly. Some of the stages of dental implant treatment include:
Initial consultation
Any preliminary work necessary to prepare your mouth to receive dental implants (such as tooth extractions, bone grafting, or gum disease treatment)
Surgical placement of the implants
Installment of the abutments (tiny metal attachments that connect your implants to your restoration)
Design, creation, and placement of your custom-made restoration (crown, bridge, or denture)
Are Dental Implants Worth the Investment?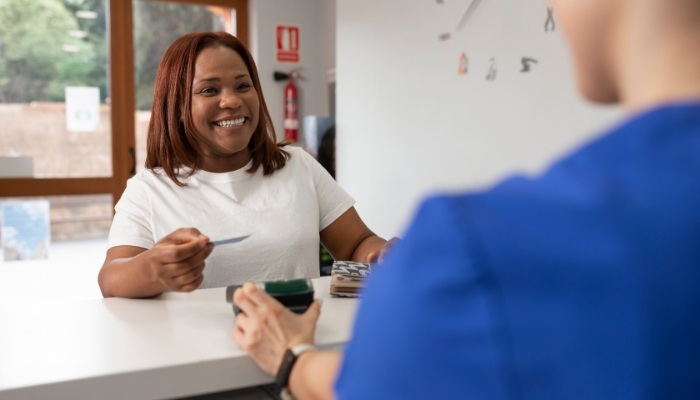 Simply put, there is no better way to replace missing teeth than with dental implants in Saint Peters. Yes, there are plenty of other options, but most dentists, including Dr. Makwana, will agree that dental implants are by far the most beneficial and worthwhile due to their longevity. The initial price may be steep, but while your friends and colleagues are visiting the dentist to have their bridges repaired or their dentures replaced, you'll continue enjoying a smile that looks and feels natural for decades, if not a lifetime.
Does My Dental Insurance Cover Dental Implants?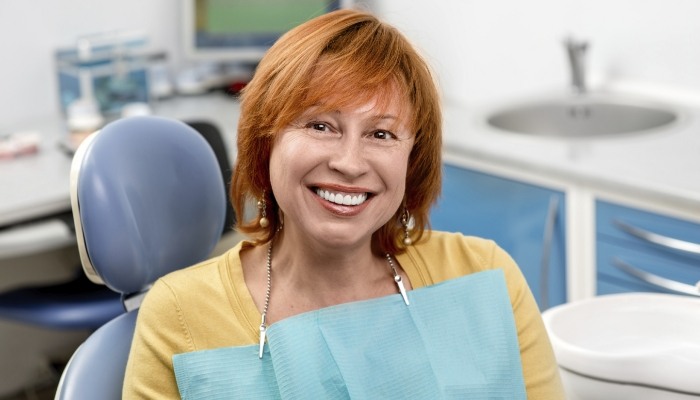 Many dental insurance companies do not cover the cost of dental implant placement, but you'd have to look over the details of your plan just to make sure. Even if the implants themselves are not covered, your insurance may help pay for other aspects of the treatment, such as:
Preparatory procedures (gum disease treatment, extractions, etc.)
Consultation
Restoration
Sedation/anesthesia
At Klassik Smiles, we never want you to feel overwhelmed by the cost of dental procedures. To help you out, we offer in-network savings with many PPO dental insurance plans, like Aetna, Delta Dental, Cigna, and MetLife. We'll even handle all of the paperwork for you so that you don't have to lift a finger.
Additionally, we accept low-to-no-interest financing through multiple, reputable lenders, including CareCredit. These plans help break down the cost of your dental treatment into manageable, monthly installments.
Dental Implants Post-Op Instructions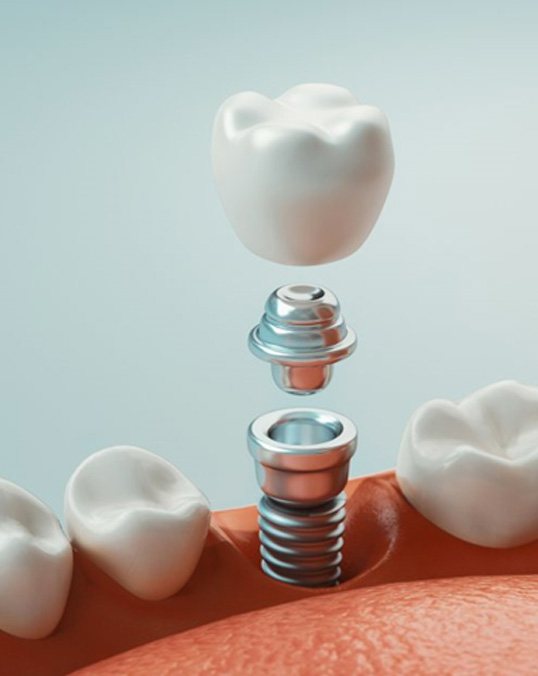 Since our team can perform the full dental implant procedure in-house, you won't have to worry about visiting multiple locations to get the tooth replacement you need. You'll be able to save time and money while rebuilding your full smile. After your treatment, you'll want to ensure that your results last many years to come. Here are several dental implant post-op instructions to follow to make the most of your new pearly whites!
What to Do Directly After Dental Implant Surgery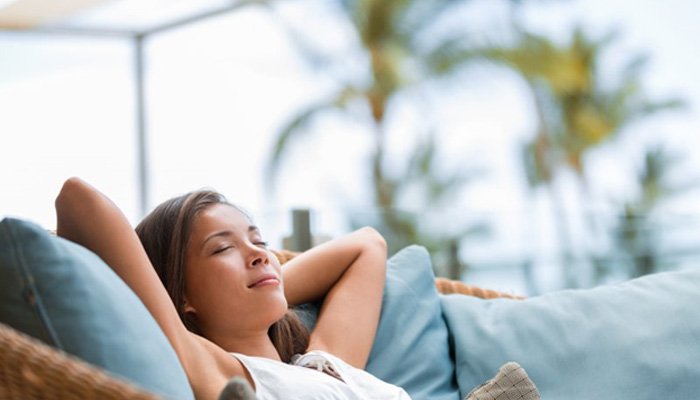 One of the most important things to remember after dental implant surgery is to take proper care of the blood clot that needs to form around the surgical site. To ensure a successful treatment, be sure to avoid touching or disturbing your gums so that they can recover properly. Get plenty of rest to allow your body to heal more effectively (keep your head elevated so that blood doesn't rush to your mouth). Avoid using tobacco products and don't drink through a straw, as the suction can ruin the blood clot.
Common Side Effects When Recovering from Dental Implant Placement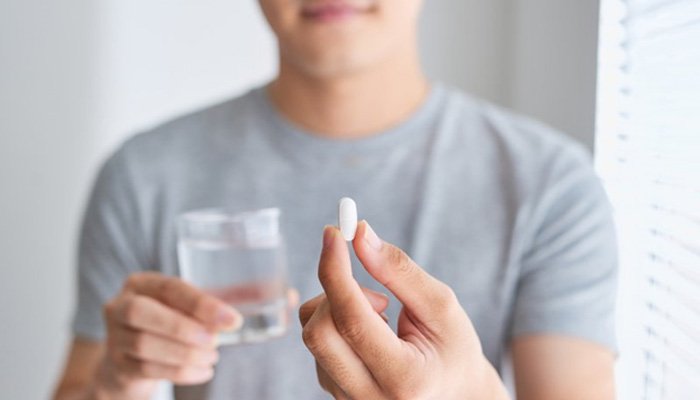 Certain symptoms after a typical oral surgery include mild inflammation, intermittent bleeding, and general discomfort around the area. These are typically short-lived and can easily be managed. However, be sure to notify us if any of these conditions worsen. Here are a few ways to manage your side effects until then:
Apply gentle pressure to any areas that are bleeding with clean gauze pads or washcloth
Take over-the-counter or prescribed pain relievers to manage pain
Use a cold compress on the side of your cheek to alleviate swelling
Your Diet After Dental Implant Surgery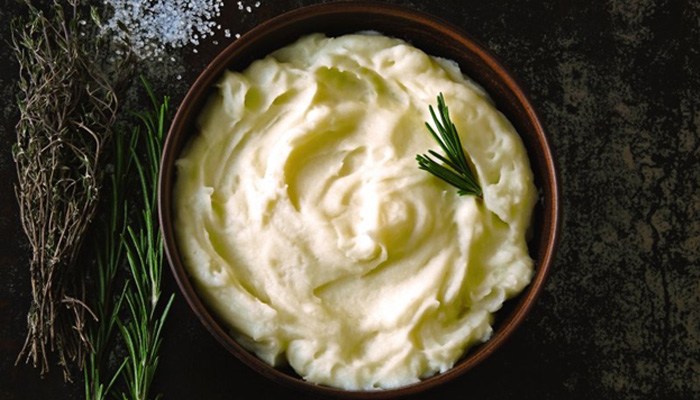 To make sure your dental implant bonds with your jawbone and that your gums recover, you'll want to stick to a softer-food diet. After some time, you can start working more solid foods into your meals, so far as you don't chew directly on the implant site. Here are some foods to consider during your healing period:
Mashed potatoes
Pudding
Applesauce
Ice cream
Yogurt
Scramble eggs
Post-Op Health & Oral Hygiene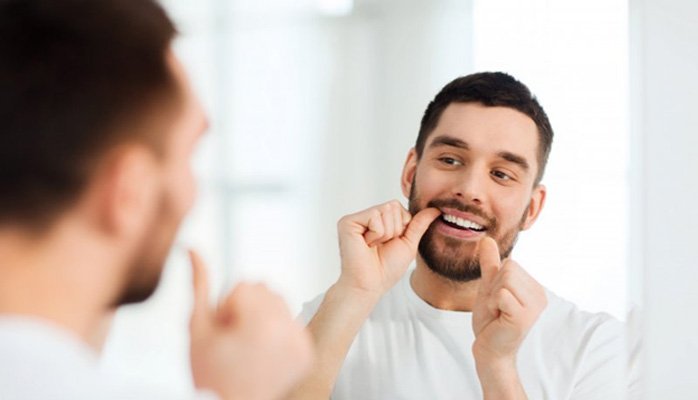 Maintaining a clean and healthy mouth is essential for your recovery and preserving your dental implants for much longer. Make sure to implement these oral health habits:
Rinse with salt water 2-3 times every day, particularly after eating. Don't spit out the water. Instead, let it pour from your mouth.
Brush carefully after your surgery to avoid disturbing the surgical site.
Avoid using mouthwash that consists of alcohol, which can cause discomfort.
What to Do After Your New Teeth Are Attached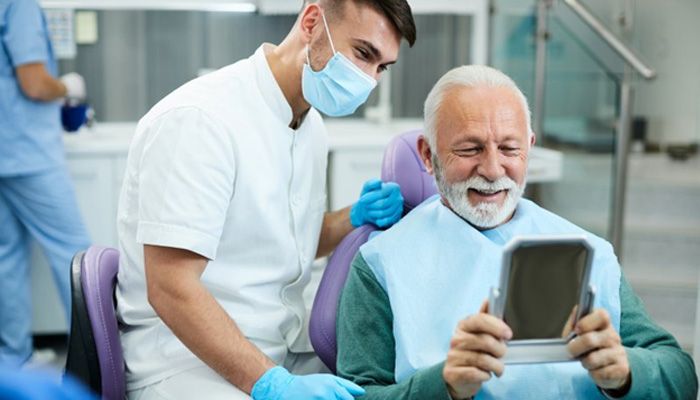 After you're properly recovered and your dental implants have integrated with your jawbone, you'll return to our office to get your new restorations. Though your gums may feel slightly sore or sensitive from this, you can simply take painkillers to alleviate your symptoms. If you notice any swelling or bleeding, let us know as soon as possible. Otherwise, once you receive your crown, bridge, or denture, you'll be free to show off your complete and beautiful smile!
Dental Implant FAQs
Do you still have questions about dental implants? Thankfully, we have the answers! Dental implants have quickly become one of the most popular replacement options, which is why many patients are curious about them and what the process entails. That's why we've provided the answers to some of the most frequently asked questions about dental implants. Keep reading to get the information you need to feel confident in your potential dental implant treatment.
Does the dental implant process hurt?
Many patients may expect pain when they hear that dental implants require surgery; however, the most discomfort that you will likely feel is some slight soreness afterward. Patients who have undergone this process relate any discomfort to simple tooth extraction, making the surgery more comfortable than you may have guessed. Plus, your jawbone doesn't contain many pain-sensing nerves, the implant dentist will ensure that you're numb and relaxed before beginning.
Can dental implants help with my dentures?
Dental implants can be used to replace one tooth, multiple teeth, or even an entire row of your smile. When patients are missing all or most of their teeth, Dr. Makwana can use implants to support their dentures, allowing for strong and sturdy smiles. In some cases, he may even be able to use the denture you currently have, altering it to attach to dental implants. The result is a set of teeth you can feel confident to speak, eat, and smile with—no more slipping or sliding dentures.