Dentures – Saint Peters, MO
The Trusted Solution to Tooth Loss
Throughout your life, you never expected to find yourself living with missing teeth, but despite your best efforts, you now have gaps in your smile. Simple tasks like chewing a steak or speaking clearly have become more challenging. Not to mention, you no longer feel confident about your appearance. At Klassik Smiles, we understand your situation. Dr. Makwana offers the solutions you need to replace your missing teeth with full or partial dentures in Saint Peters.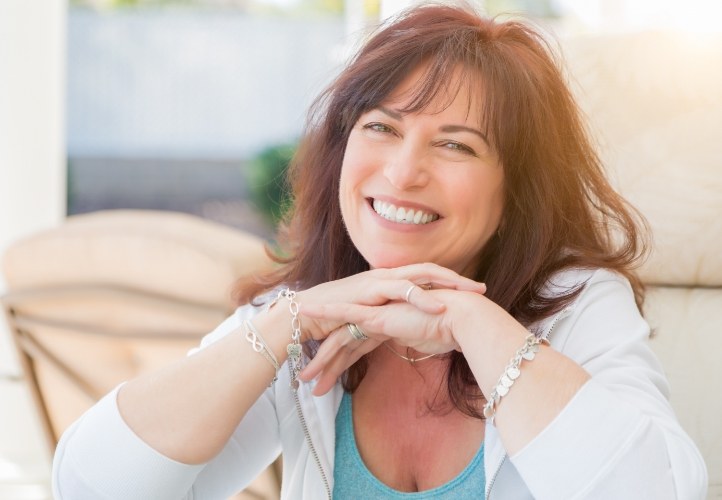 Why Choose Klassik Smiles for Dentures?
Cutting-Edge Digital Dental Impression Technology
Start-to-Finish Dental Implant Treatment
Dentist with 25+ Years of Experience
Stop Living with Tooth Loss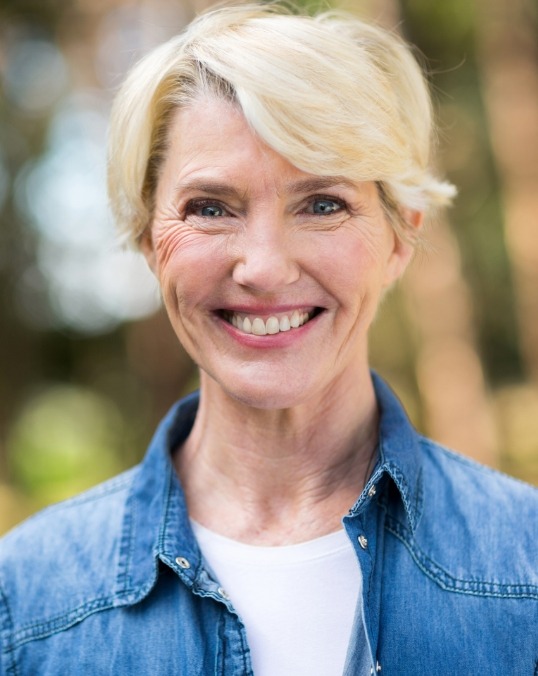 Every tooth in your mouth has an important job. They allow you to chew and speak while also being necessary for your oral health. When even one is missing, it significantly decreases your quality of life. In addition, it can create new challenges when trying to maintain your dental health.
When a tooth is lost, the underlying bone and supporting structures begin to deteriorate. Over time, this can cause the adjacent teeth to shift toward the open space. This can lead to alignment issues, making your teeth more difficult to clean. As a result, you now have a higher risk for developing tooth decay and gum disease. As time goes on, the loss of support will also cause your teeth to become loose. Eventually, they may fall out, leading to even more dental complications.
To slow the challenges of tooth loss and to restore your quality of life, full or partial dentures may be the answer you need.
Partials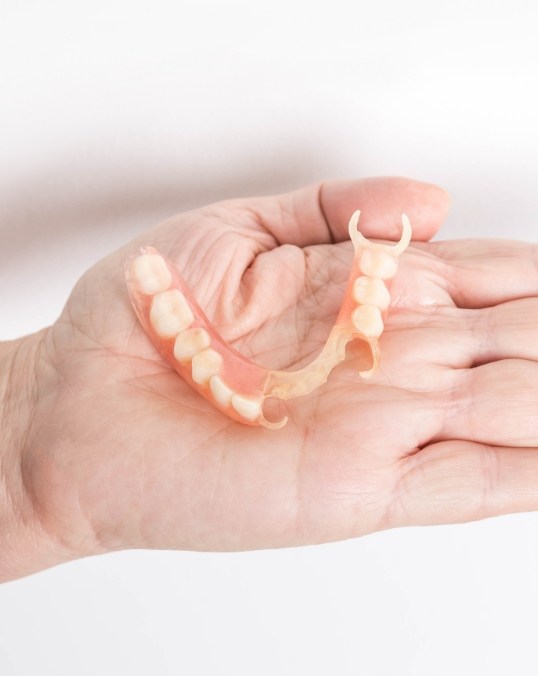 If you have one or several missing teeth, partial dentures, or partials, can help to fill the empty space. Using impressions of your mouth, a gum-colored base is created, which will feature prosthetic teeth. The partial denture is then held in place by attaching it to your adjacent teeth. The removable appliance will be made to match your remaining natural teeth to create a flawless, functional smile.
Partials provide an affordable and convenient solution to replace your missing teeth. You will be able to speak clearly and enjoy your favorite foods. In addition, a partial will provide your remaining natural teeth with the support they need to stay in place.
Full Dentures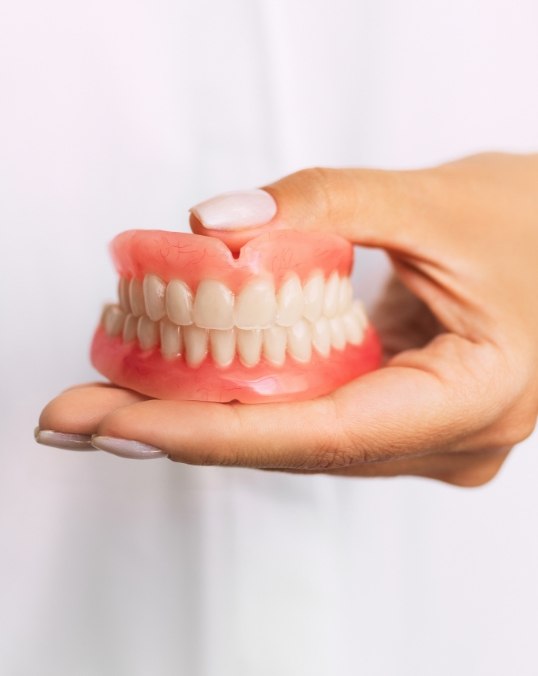 When living with complete tooth loss on the top or bottom arch, full dentures can restore your ability to chew and speak with ease. A gum-colored base is created using impressions of your mouth. It will hold the prosthetic teeth that will be made to match your exact needs. The denture is then held in place using suction or an adhesive.
Although dentures have a bad reputation for looking fake, new advancements in dentistry now allow them to look more realistic. In addition, they will provide a more comfortable fit, so you do not have to worry about any slipping or irritation.
Complete Your Smile with Dentures Today!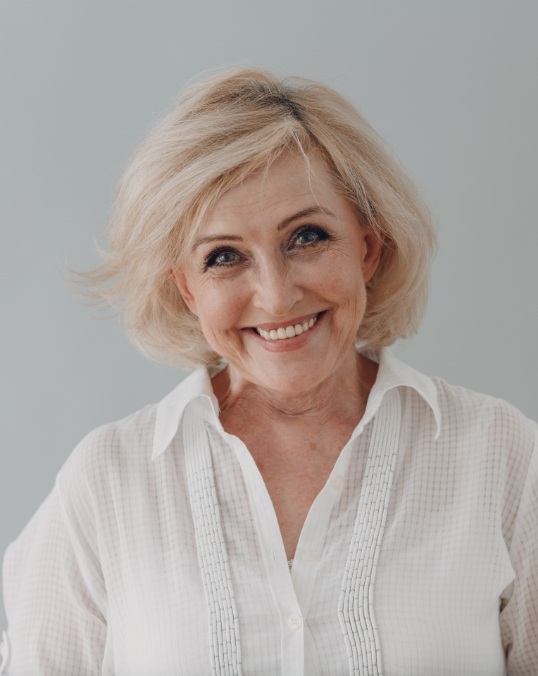 You do not have to live with the challenges and insecurities of tooth loss. You can regain a complete smile with the help of Dr. Makwana. He will perform a comprehensive consultation to determine the best treatment for you.
Contact Klassik Smiles today to schedule your consultation for a complete smile.
Denture FAQs
If you've suffered significant tooth loss, dentures are a great solution to restore a beautiful, functional smile. They've been used for decades as an effective option to replace missing teeth in one or both arches. Although they have a long track record for success, it's normal to have a few concerns before you're ready to commit to them. We'll explain everything during your initial consultation to help you feel confident in the decision you're making for your smile. While you wait for your visit, here are the answers to a few of the most common questions patients ask us about dentures in Saint Peters.
Will my dentures feel natural?
Let's face it, dentures have a bad reputation for looking fake and being uncomfortable; however, modern advancements in dentistry have resolved many common complaints. Our office uses the latest dental technology to ensure a snug, comfortable fit to minimize any slipping and irritation. Although it will take a few weeks to get used to wearing your dentures, in no time at all, they will closely feel like your natural teeth. If you're interested in a more stable solution for tooth replacement, ask us how we can secure your denture using dental implants.
How long do dentures last?
Dentures are made of durable material, but they won't last forever. Not only will they undergo daily wear and tear, but your gums and jawbone will change shape over the years. As a result, it's normal to expect to need a replacement every five to seven years. You can help preserve your dentures by caring for them properly every day. Don't forget to visit our dental office often for maintenance, like having them relined. You can choose a more permanent option with implant dentures. You'll never need to worry about having them replaced with the right aftercare.
How much do dentures cost?
There isn't a set fee for dentures because their cost is determined by several factors, like the materials that are used and the number of teeth you're replacing. We'll provide you with a custom estimate during your initial consultation and explain the fees associated with your plan. Our dental office accepts several payment options to keep your new smile affordable. Besides traditional methods, we also accept third-party financing. Based on your credit approval, you're given the funds you need, which you'll repay using a plan that accommodates your budget.
Can I use my dental insurance to pay for dentures?
Every dental insurance policy is unique, but many plans offer some coverage for dentures. We'll help you utilize your benefits to offset the amount you need to pay out of pocket. After reaching your annual deductible, you'll have access to your yearly allowance to lower the amount you pay. A member of our team will work on your behalf to file the necessary claim forms to maximize your coverage. We will explain how your policy is being used to pay for your new smile and if you owe a remaining balance. We will help you find the solutions you need to complete your smile without breaking the bank.