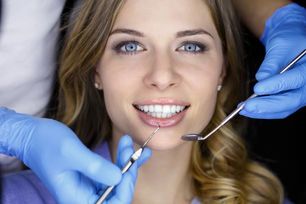 Want to make 2019 your tooth-friendliest year yet? Try following some tips from a dentist in S. Peters Mo., such as following proper brushing technique and knowing what to do between brushings. These suggestions can help you to prevent cavities and enjoy healthier teeth and gums, both in the new year and for all the years to come.
How to Brush for Best Results
What if you could change your life for the better by investing five minutes a day in an easy, enjoyable activity? Does that sound like a good investment? That's exactly what can happen when you spend a little extra time brushing your teeth.
At this point, you may be saying, "but I already know how to brush! I've been doing it all my life." We understand. But did you know that the manner in which you brush is just as important as how often? Here's what we mean:
Your teeth fall into two groups: the posterior, or rear teeth, and the anterior, or front teeth. The anterior teeth are the ones that receive the most attention when we brush.
When we fail to give the posterior teeth due attention, they fall victim to built-up plaque. This places added stress on the anterior teeth, eventually causing them to fail as well.
The result is widespread tooth loss that makes dentures or other forms of restoration necessary. For may people, this process runs its course as early as age 60, sometimes sooner.
The best way to prevent this cycle is to use proper brushing technique. Here are some key points to remember:
Begin with the posterior teeth first. Make sure they're thoroughly cleaned before moving on to the anterior teeth.
Brush all sides of the teeth – front, back, and chewing surfaces.
Brush all the way up to the gumline. Use both up-and-down and side-to-side strokes for best results.
Remember the "2 by 2 rule." Brush for a full two minutes, and do so at least two times per day.
It's a good idea to follow up each brushing session by using a name-brand mouthwash or dental rinse.
How to Keep Your Teeth Cleaner Between Brushings
Dentists recommend brushing after each meal. But, for many of us, this is easier said than done. What can you do instead to make the benefits of brushing last longer? Here are three suggestions:
Drink lots of water. Not only does this help to clean your teeth, it also enables your body to create more germ-fighting saliva.
Chew sugar-free gum. This also encourages the production of saliva. Plus, it helps to remove food particles that can lead to cavity-causing plaque and tartar.
Keep a spare brush and travel-sized tube of toothpaste on hand at work. That way, you'll be able to give your teeth a quick cleaning during breaks.
2019 is just around the corner. Make it your best year yet for dental health by following the tips in this post. In times to come, you'll look back with well-deserved pride in the habits you nurture now.
About the Author
Dr. Krista Cayo studied dentistry in Alton, Illinois before moving to Missouri to open her practice. She's a member of the American Dental Association (ADA) and the Greater St. Louis Dental Society. You can reach her office online or by calling (636) 928-9693.