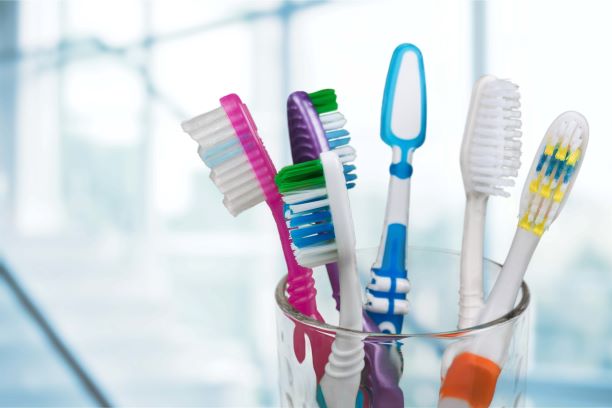 Choosing a toothbrush might not be the biggest decision you ever make. Still, it's an important topic that requires a bit of thought and research. After all, each of us only has one set of natural teeth. Keeping them for a lifetime means making smart choices about your oral health. With that in mind, a dentist in St. Peters would like to give you some tips for choosing between an electric and manual toothbrush.
Electric Toothbrushes in a Nutshell
Electric toothbrushes have been around for almost 100 years. The first models were introduced back in 1927. Early efforts were fairly crude. For example, they ran on electrical outlets instead of batteries. They also lacked grounding wires and other safety measures that we take for granted today.
The situation changed somewhat in the 1960s when GE introduced the first battery-powered toothbrushes. But these products were bulky and the charge would only last for a minute or two.
The introduction of modern battery technology in the early 1990s revolutionized the world of electric toothbrushes. Modern versions are smaller, quieter, and more powerful than ever before. They are especially useful for people who have trouble holding or manipulating a manual toothbrush due to physical limitations.
Another group that can benefit from electric toothbrushes is households with small children. The "fun factor" involved with using these products can encourage kids to use them more often.
On the other hand, electric toothbrushes can be quite pricey, especially for some of the more sophisticated sonic and ultrasonic models. Even lower-priced versions still require a reliable power source to stay charged.
Manual Toothbrushes: The Classic Option for Every Age
On the other end of the technological spectrum are manual toothbrushes. These have been around in one form or another since the 1400s when they were invented in China. Pre-modern versions used bristles made from boar spikes. Needless to say, these ancient products were sometimes uncomfortable to use.
The first nylon toothbrushes appeared on the market in the late 1930s. These products were issued by the Army and went overseas with American troops during World War II.
After the war came an increasing public emphasis on oral hygiene. Manual toothbrushes soon became a common sight in most residential bathrooms.
The classic straight-handled version remained the default design until 1977, when Johnson & Johnson released the first angled toothbrush targeted to consumers. Toothbrush manufacturers have continued to modify their designs since, experimenting with different angles and bristle patterns.
Today you can find nylon toothbrushes with dozens of different features. They remain the products of choice for the vast majority of Americans. They require no power source other than good old-fashioned human muscle. They're also inexpensive, easy to find, and come in a variety of colors and styles to match every taste.
The Bottom Line
Dentists agree that proper brushing technique is more important than the type of toothbrush you use. It's important to brush at least twice a day; after each meal is preferable. Manual toothbrush users should replace the product every 60-90 days or whenever the bristles become frayed. Electric toothbrush users should follow the manufacture's guidelines.
Some inventions never get the acclaim they deserve. This includes the humble toothbrush. It has revolutionized the way humanity keeps its teeth clean. Use the tips in this post to choose the right brush for your needs, whether it's electric or manual. That's the smart way to enjoy healthier teeth and brighter smiles.
About the Author
Dr. Krista Cayo has been providing top-quality dental care to our community for more than six years. She earned her DMD degree from the Alton School of Dental Medicine and is a member of the American Dental Association. You can reach her office online or by calling (636) 928-9693.