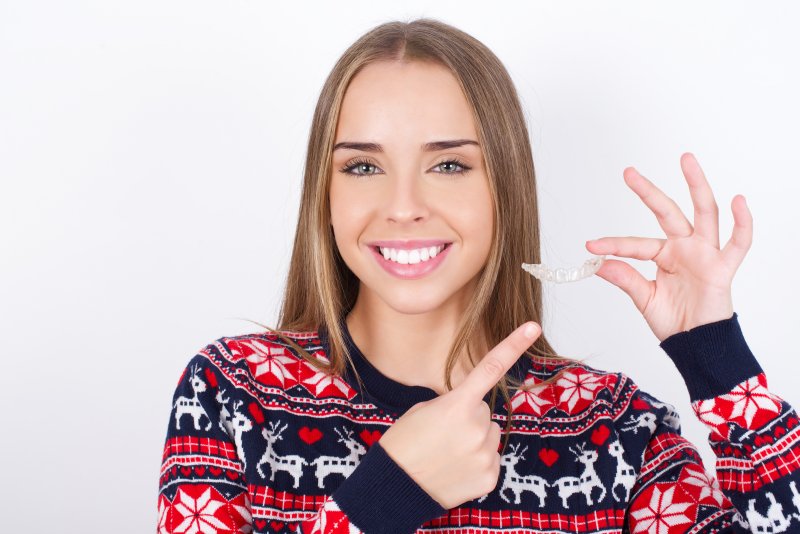 The holiday season is upon us, and if you're like others who wear Invisalign clear aligners, you may be wondering what you can do to keep your orthodontic treatment on track. Although it might seem as if it's an impossible feat to enjoy all the different foods while also dealing with a more relaxed schedule, you'll be pleased to know there are four helpful tips you can use to ensure you don't experience an Invisalign delay.
Don't Skip Out on Wearing Your Aligners 20+ Hours a Day
One of the most important aspects of Invisalign treatment is to commit to wearing them 20-22 hours each day. This ensures enough pressure is placed on your teeth to keep them moving in the right direction. However, with the holidays, it can be difficult to abide by this rule with all the meals, snacks, and fun parties. But it's important you stick to the plan, as deviating from it could cause a delay in treatment and potential discomfort.
Always Bring Your Storage Case
With so much going on around the holidays, it can be easy to get caught up in all the fun and accidentally lose or damage your clear aligners. But if you keep your protective case on hand, you'll be less likely to experience a potential problem when you need to take out your trays. Keeping your aligners in a case will ensure they remain protected from damage as well as any harmful bacteria and particles that are in the air.
Make Oral Hygiene a Priority
Brushing and flossing your teeth after every meal should be a practice you commit to during your treatment. So many holiday foods consist of sugars and starches that you'll need to make sure you're staying on top of your oral hygiene routine. Bacteria can be easily transferred between teeth and aligners, and stains from the foods and beverages you eat can impact your trays if you're not careful. By cleaning your teeth after eating, you'll keep your aligners virtually invisible and well on your way to a straighter smile.
Remove Your Aligners Before Eating and Drinking
Eating or drinking anything but water while wearing your aligners can cause significant damage. Not only can they become warped (if you consume anything too hot), but they can bend and break because of the added pressure placed on them while chewing. You need to make sure you're always removing your aligners beforehand if you want to stay on track with your Invisalign.
The holidays can still be a fun and enjoyable time even when you're straightening your teeth with clear aligners. Just keep these helpful tips in mind, and you'll enter the new year with a healthy, more beautiful smile.
About the Author
Dr. Krista Cayo is a dentist in St. Peters who earned her dental doctorate before going on to receive her certificate in Advanced Education in General Dentistry (AEGD). Dedicated to helping patients with crooked teeth, she is pleased to offer Invisalign as an alternative to traditional braces. If you are preparing for the holidays but are unsure how to maneuver them while wearing clear aligners, contact us via our website or by calling (636) 928-9693.