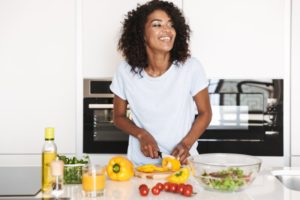 Have you ever put your dental checkups and cleanings on the backburner to make room for other plans? At the time, that may have sounded like a good idea, but further down the road, you'll likely regret making that decision. Your semi-annual appointments with your dentist don't just keep your mouth clean and healthy, they also prevent other health problems from occurring. Read on to learn how taking care of your mouth also means looking after your overall wellbeing.
Detecting Oral Cancer
You may not have known, but each time you visit your dentist for your professional checkup, they conduct a thorough oral cancer screening. This disease is incredibly serious, and when diagnosed too late, it can be deadly. Your dentist is specially trained and equipped to spot the early signs, which can lead to a more successful treatment. Because the cancer can progress so quickly, it's important to receive these screenings every six months.
Dentists can complete oral cancer screenings in as little as five minutes. They will visually and physically inspect your mouth to ensure that no abnormalities or symptoms are missed. If something out-of-the-ordinary is spotted, they'll order additional testing to make sure nothing is left to chance. These painless and fast screenings could save your life!
Warding Off Gum Disease
Gum disease is one of the most common oral health problems in the nation. According to the Centers for Disease Control and Prevention, one out of every two adults in America suffers from this condition. Because it's so common, many patients are surprised to learn that this disease is actually easily preventable with professional checkups and cleanings as well as at-home dental hygiene. However, when it does develop, it can be difficult to get rid of, especially in its more advanced stages.
Your dentist will conduct visual examinations of your teeth and gums during each of your appointments in an attempt to spot and treat the early symptoms of the disease before it causes permanent damage. The earlier the issue is addressed, the easier it is to treat. The more advanced it gets, the less likely it will be that the infection itself can be reversed. However, your dentist can stop it from progressing with regular periodontal therapy.
Protecting The Rest of Your Body
Common oral health problems such as gum disease have been linked to several medical conditions in clinical studies. When harmful oral bacteria accumulate in your mouth, they feed on sugar and carbohydrates that are trapped in your plaque and release harmful substances that result in the development of health problems. The same toxin that causes gum inflammation and infection has been linked to a variety of other health conditions found throughout the body. That's why visiting your dentist for routine preventive care can also reduce your risk of experiencing:
Strokes
Heart disease
Respiratory infections
Alzheimer's
These are only a few of many medical conditions that have been connected to the progression of gum disease. Fortunately, with your dentist's help, you can keep your mouth as well as your body safe and healthy. All you have to do is pick up the phone every six months to schedule your dental checkup and cleaning!
About the Author
Dr. Krista Cayo focuses on providing her patients with thorough preventive treatments and the knowledge they need to optimize their oral health. She has a certificate in Advanced Education in General Dentistry and is a member of several professional organizations, allowing her to stay up-to-date with the latest research and advancements in her field. To schedule a checkup and cleaning and learn more about your oral and overall health, visit Cayo Dental Care's website or call 636-928-9693.